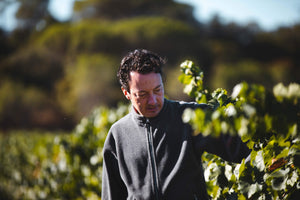 One local team at your service
CEO NORTH AMERICA
BOB GAUDREAU
Bob is a seasoned global business leader with over 30 years experience in building companies from the ground up, growing both their geographic market footprint and scaling their operational practices.
Bob was one of the first employees of IWG (formerly called Regus), now the world's largest operator of workplace solutions. Bob oversaw its growth from four locations in Belgium to over 3500 locations in over 100 countries internationally. During this time, Bob spent 4 years living in Brussels and another 4 years in London before moving back to America to oversee the opening of the IWG North American and Latin Operations. He spent his final years at IWG overseeing the Sales Division of the company and was responsible for generating over $2 Billion dollars in Annual revenues.
Bob joined MDCV and the Provence Rose Group in 2018 with a specific mission. He wanted to take on a whole new challenge and build another business from the ground up. As a regular visitor to Chateau de Berne for the last 13 years, Bob fell in love with both the Provence area and its wines. It's therefore a natural fit that Bob is now able to harness his passion for this style of wine with the MDCV family of estates and pair it alongside his commerical, sales & marketing experience.
Bob lives with his wife and 3 children in Westchester, NY. 
Markets covered: 
All Global Commercial Operations of MDCV Provence and CEO of Provence Rose Group in the America's
Marketing & E-Commerce Manager
ANNE CARILLION
Anne was born in Paris, France.  She graduated from Paris Dauphine University with dual degree in Marketing and Strategy and is WSET 3 certified.
She started her career at Pernod
Ricard and then LVMH in Paris.  She later joined Advini as a Brand & Business Development Manager, in Chateauneuf-du-Pape, France.
In 2022, Anne joined MDCV in the French Marketing team. She moved a few months later to New York City and joined the US team in the US Marketing team where she runs Brand Development, E-Commerce and works in the field as a Brand Ambassador.
REGIONAL SALES DIRECTOR SOUTHEAST
DAVEN DEMEYER
Daven DeMeyer has come to Provence Rose Group with over 24 years of experience in the wine & spirits industry.  After graduating from Washington State University he went to work for the world's third largest wine company, The Wine Group for 22 years.  At The Wine Group Daven worked in sales, managed distribution, and launched such popular brands like Cupcake, Chole, Save Me San Francisco, Trapiche, and flipflop wines.  Prior to joining the Provence Rose Group, Daven was Regional Sales Manager for Enovation Brands, the U.S. sales division of EnoItalia, Italy's largest privately held winery.     
States Covered:
Southeast (AL, AR, DE, FL, GA, KY, LA, MS, NC, OK, SC, TN, TX, VA, WV)
Regional Sales Manager
JT SHEEHAN
JT Sheehan comes to us with more than 20 years of experience in the Wine and Spirits industry. JT served such roles as North East Region Manager for Disaronno International and New York State Manager for Kobrand Corporation, NV Group USA and Heritage Distilling Company. His expertise includes distributor and account management with an in depth knowledge of his
assigned territories. 
States Covered:
New York, New Jersey, Pennsylvania
Regional Sales Manager
DEREK ARMSTRONG
Derek Armstrong comes to the Provence Rose Group with 30 years of experience working in the Wine & Spirits industry. His experience includes importing Wine throughout Europe as well as distribution of Wine & Spirits throughout New England.
Derek was born and raised in Massachusetts and currently lives in New Hampshire. 
States Covered:
New England (ME, MA, NH, RI, VT)
Regional Sales Manager
SAYLO OZKOK
Saylo was born and raised in Istanbul, Turkey, and after coming to the United States, has worked in the hospitality industry for over 10 years with another 8 years of working for distributors.
Saylo started out working for Southern Glazers as a Sales Representative then earned a promotion to Key Account Manager. After moving to the Nation's Capital, Washington DC, Saylo worked for RNDC as a Key Account Manager. It is where he found his love for Rose wine.
Saylo then moved to Fort Lauderdale and started his career with Provence Rose Group.
States covered:
Florida, Washington DC, Maryland
Regional Sales Manager
JOHN EDGERLY
John started his career in Colorado Springs managing Garden of the Gods Liquors. He was recruited by McKesson Wine and Spirits. He spent 4 years learning the wholesale business before being recruited by Chateau Sainte Michelle as Regional Sales Manager. After 2 years he was recruited by Trinchero Family
Estates. 
27 years later, he started his Wine, Spirits and Beer marketing company in June in 2013. He now have 2 sales partners, one in Colorado and one in
Kansas City.
States Covered:
Colorado, Kansas, Missouri, Nebraska, North Dakota, South Dakota, Iowa
Regional Sales Manager
CARLOS BLYTHE
Born and raised in Seville Spain, Carlos was introduced to the wine culture at a very young age without much resistance. His early years revealed to be of much travel as his family would move several times between Spain & London, to finally settle in the USA where he graduated with a degree in International Business and Economics from Cal State Sacramento. His profession began with  E. & J. Gallo, where he received the foundation considered to be the equivalent of sales and management basic training in the wine business. Wanting more exposure in the business lead him to move from the largest winery in the world to the largest Distributor in the US, Southern Wine & Spirits of California. Carlos then spent 13 years in sales and management for Remy Martin-Cointreau Group (top Luxury Brand Building French Conglomerate) in California.
Needing more exposure to small producers and involved with the operations, Carlos spent several years as
Director of Sales for Napa Valley's Turnbull Wine Cellars. This inspired him to start his own business, Boutique Wines and Spirits, LLC, where he is instrumental in the strategic development of building products into "Brands". Thanks to more than 27 years of experience, Carlos has developed excellent sense of the marketing, sales and distribution of this alluring, yet complicated wine world.
States Covered:
Northern California, Washington, Oregon
Regional Sales Manager
Susanna Comfort
Susanna has extensive experience in the hospitality industry for over 10 years as a bartender and server, working at a variety of wine bars and farm-to-table restaurants. Originally born on the East Coast, she traveled across country and landed in sunny San Diego. After living and working on an organic farm for several months studying permaculture, she began working as a Sales Representative for a hard cider company, earning a promotion to Regional Sales Representative covering Orange County, San Diego, and Arizona. 
Most recently, she comes from Louis Vuitton, as an Expert Client Care Advisor. 
States Covered:
Southern California