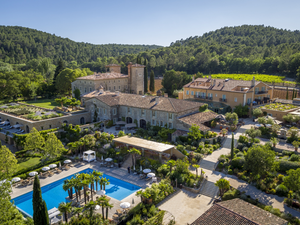 A Relais & Châteaux Hotel in Provence
Provence lifestyle, a blend of tradition and elegance
Vines have been grown on the Château grounds since Roman times. Situated on the Aurelian Way, a Roman road formerly linking Italy and Spain, the vineyard was also a trading post for wines. The amphoras used to transport the precious beverage were made on site, as witnessed by an ancient oven discovered in the grounds around a century ago. Raymond V, the former Count of Toulouse, donated the estate to Saint Bernard, the founder of the Cistercian Order. It remained the property of the Marquis de Villeneuve for the next 3 centuries.
Today Château de Berne welcomes wine lovers to an exceptional, luxurious setting: a five-star Relais & Château hotel with 31 rooms, two private residences, a Spa, two restaurants including a gastronomic restaurant awarded a Michelin star in 2017 and a green Michelin star, a Cooking School and 1,235 acres of magnificent natural scenery dedicated to discovering Provence.
With 3,000 hours of sunshine a year, an annual rainfall of 600 to 800 mm and 50 windy days per year (over 50 km/h) Château de Berne boasts an environment particularly conducive to wine growing. The cool evenings of the Haut Var (northern part of the Var) ensure slow and optimal grape ripening. The grape harvest therefore takes place later than on the coast (generally from mid-September onwards). Our Rosés mature slowly, to produce well-structured, full-bodied wines that pair particularly well with contemporary cuisine.
Measuring 330 acres, the Château de Berne terroir is situated on the Triassic Plateau, resting on a chalky bed dating back to the lower and middle Jurassic ages. Château de Berne regularly uses around ten grape varieties to blend its wines, mainly Grenache, Cinsault and Syrah.