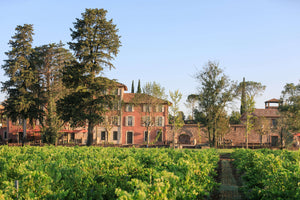 The voyage begins here in the heart of nature
A vineyard that respects the gentle pace of nature
The Château Saint Roux vineyard spans 85 acres around the village of Le Cannet des Maures and comprises a red clay and chalk soil, rich in iron that lends the earth its characteristic orange and vermilion hues. The domain itself dates back to the 15th century.
In fact, the color of the soil was at the origin of the name Saint Roux (Saint Russet). Iron is an essential nutrient and acts as a catalyst for the growth of richly-aromatic grapes - a specificity that produces punchy wines and truly extraordinary reds. Planted in a windy corridor, the vines are naturally protected from disease and are therefore ideally suited to organic farming.
THE EPITOME OF AUTHENTICITY
Saint Roux is committed to flying the flag of tradition, terroir and ecology alike. The vineyard is an invitation to slow down and relish the moment, encouraging visitors to stroll peacefully in the vines and smell the roses… The cellar offers a range of organic produce supplied by local producers. More than just a vineyard, Château Saint Roux is a genuine working farm, home to around 50 goats.